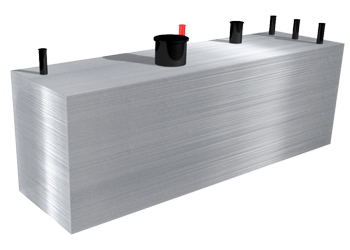 Primary Steel Tank
The steel tank is isolated from the concrete encasement to assure corrosion protection. ConVault® steel tanks are made of 1/8", 3/16" or 1/4" thick steel, depending on warranty and tank size. The steel tank contains and holds the liquid fuel, which is the primary function of the tank. To make the steel tank systems fit for their function; the tanks are made in accordance with the UL standard 142 and ULC standard S601. The UL/ULC standards cover all the aspects of tank fabrication including material specification, fabrication, welding and testing. The tanks are listed in accordance with UL/cUL Standards and carry UL/ cUL labels as such. Primary steel tanks (including spill containment basins) are fabricated in accordance with UL Standard 142 (Seventh Edition). The assembly has passed numerous performance tests including 2-hour liquid-pool/furnace fire tests, vehicle impact and projectile-resistance investigations. During the fabrication process each tank undergoes a number of quality control and test procedures including a 24 to 48 hour pressure test at five (5) psig.

Thermal and Corrosion Protection
The tank construction includes thermal insulation to protect against temperature extremes and corrosion by separating the steel tank from the concrete. No part of the steel tank comes in direct contact with concrete or other corrosive materials. All nipples, manway and spill container are powder coated for protection against corrosive elements. Primary/secondary containment, leak monitoring and spill containment are independently tested at the plants to insure proper performance in the field. Each unit is pressurized twice at the factory for leak-tight purposes prior to shipment in accordance with UL and ULC requirements, as well as patented processes.

Related Products and Services