Overview
From Oldcastle Precast, the leading manufacturer of precast concrete products, comes ConVault, a superior line of above grade liquid storage vault solutions offering unsurpassed protection, versatility and reliability. The ConVault line of products are ideal for Fuel & Lube Dispensing, Oil & Chemical Storage, as well as Generator & Boiler Set applications. ConVault above ground fuel storage tanks, (AST), are a patented system utilizing a primary steel tank, integral secondary containment, and an engineered concrete outer vault to provide a UL listed, impact resistant, time tested fluid storage solution.
The Aboveground Solution to the Underground Problem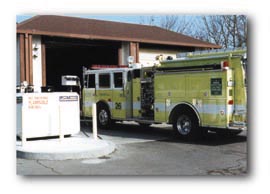 Interest in the preservation of our environment has prompted all levels of government to issue strict guidelines for the installation, operation and removal of underground storage tanks (USTs). In the event of a leak, the actual costs for soil and groundwater clean-up can be catastrophic.ConVault's innovative Protected aboveground storage tanks are the proven solution for these problems.
Primary steel tanks (including spill containment basins) are fabricated in accordance with UL Standard 142 (Seventh Edition). The assembly has passed numerous performance tests including 2-hour liquid-pool/furnace fire tests, vehicle impact and projectile-resistance investigations. The ConVault AST is listed in accordance with ULC 142.16, ULC 142.23 and UL Standard 2085 Insulated/Secondary Containment for Aboveground Storage Tanks/Protected Type.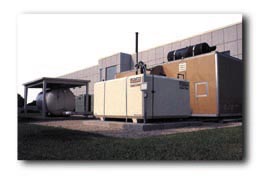 Designed for Value
The ConVault AST system will provide ongoing value for fuel storage. More stringent regulations are consistently on the horizon; however, with a ConVault AST the need for updating is greatly reduced while operating costs are substantially lower than virtually any other AST available. The end result: The Owner/Operator of a ConVault AST is always provided with PEACE OF MIND. Realizing the diverse needs of our industry, ConVault has responded by expanding our product line to include tank sizes ranging from 125 to 12,000 gallons (including multi-compartment options).ConVault ASTs are shop-fabricated under strict quality controls in accordance with UL Standard 2085 and/or ULC CAN/ORD 142.16 and 142.23 for Protected Tanks. The unit is shipped as a finished assembly, normally limiting the need for major on-site work to providing a concrete pad and electrical service.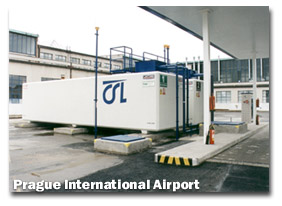 Primary/secondary containment, leak monitoring and spill containment are independently tested at the plants to insure proper performance in the field. Each unit is pressurized twice at the factory for leak-tight purposes prior to shipment in accordance with UL and ULC requirements, as well as patenting processes. ConVault ASTs are produced at manufacturing sites around the world. Click here for the ConVault representative nearest you.
Meets Government, Environmental and Fire Safety Regulations
ConVault ASTs meet all safety requirements for primary/secondary containment, leak monitoring, spill containment and overfill protection. ConVault ASTs have been approved by environmental/fire protection officials in over 27,000 global sites including all 50 states in the USA and all provinces in Canada, WITHOUT A SINGLE SYSTEM FAILURE! It is this historical performance that has been the cornerstone of regulatory comfort with the ConVault AST design. Each ConVault AST is exhaustively production-tested at the factory before shipment to its destination. ConVault ASTs meet NFPA 30/30A, UFC, BOCA and SBCCI fire safety requirements in the USA and provide grounding sources in accordance with electrical/fire code requirements. Additionally, ConVault ASTs have been certified by the California Air Resources Board for Phase I and II balanced vapor recovery, including methanol/ethanol blends.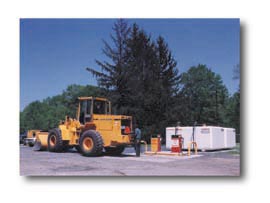 Engineered for Safety
ConVault ASTs are engineered for tightness integrity, utilizing patented manufacturing procedures. The result is a seamless six-inch concrete vault which gives thermal/vehicle impact/projectile-resistant protection for flammable liquids. The system contains no cold joints or heat transfer points on the bottom or the sides. Over 30,000 ConVault sites remain in service throughout the world without a single system failure to-date. ConVault owner/operators also enjoy the peace of mind that comes with a standard 20-year or optional 30-year warranty.
Related Products and Services